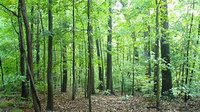 Elmo Elin Freeland
Elmo Elin Freeland, Jr., 78, of Pentwater, died Saturday, May 19, 2018, at home surrounded by his family. He was born July 22, 1939, in Pentwater, the son of Laurance "Buster" and Romaine (Bromley) Freeland.
Elmo served four years in the US ARMY until being honorably discharged in 1961.
He retired from Howmet, in 1996, where he had been employed for 37 years. He also ran a campground with his wife, Marion, in Iron River for 16 years. In his spare time, Elmo was an avid hunter and fisherman, who loved being outdoors and cutting firewood.
On December 23, 1961, in Pentwater, Elmo married Marion Knake who survives him. He is also survived by: his son, Lawrence (Melissa) Freeland of Rothbury; 7 grandchildren; 2 great-grandchildren; 2 brothers, Laval (Anita) Freeland of Ludington, and Henry Freeland of Rothbury; 3 sisters, Mary Glover of Pentwater, Florence (Neal) Collins of Rothbury, and Flora Outcalt of Irons; and numerous nieces and nephews.
Elmo was preceded in death by: his parents; his daughter, Barbara Beard; and 3 brothers, Vern, Edward and Laurance Freeland.
Funeral services will be conducted at 11:00 AM, Thursday, May 24, 2018, at Beacon Cremation & Funeral Service, King-Hart Chapel, 2370 N. 72nd Ave., Hart, with Pastor Dennis Bromley officiating. Interment will follow in North Weare Cemetery. Visitation will be held Wednesday from 6-8 PM at the funeral home.
Beacon Cremation & Funeral Service is in charge of arrangements.
www.beaconfh.com